Interested? Get More Info About Our Services!
Facebook & Instagram Advertising Services
Get Your Ads in Front of the Right People! What's Included:
   Facebook pixel setup
  Domain verification
   Customized ad campaigns
   Strategically controlled flow of traffic to your website
   Ads designed by a seasoned graphic designer
   Ad copy written by an experienced writer
   Daily ad monitoring by an expert strategist
   Comprehensive monthly reports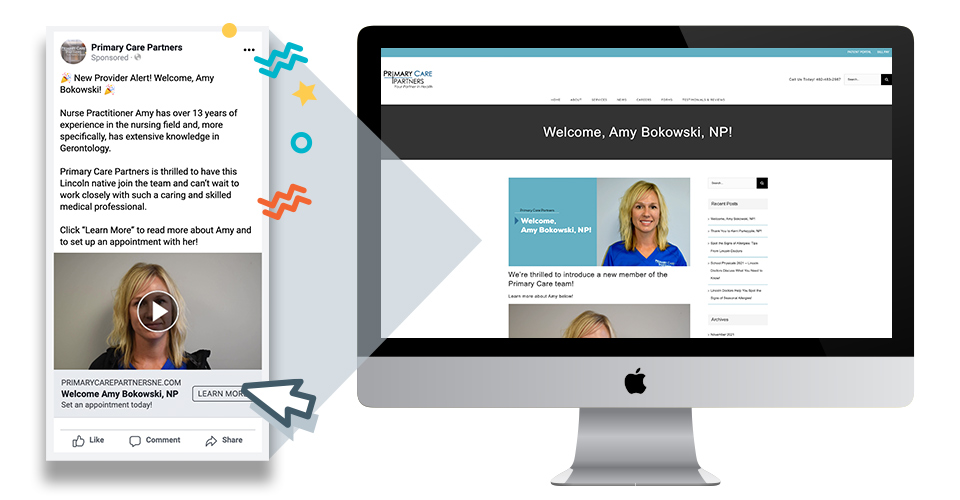 Why PLAY Creative?
With over 15 years of experience, our team of lead generation ad management experts is dedicated to result-based marketing. We value a high level of communication to reach your goals and desired results.
Beyond Ad Management
Our team is not only focused on ad strategy and ad management but on maintaining your brand. Our team will make your business good on paper through ad results AND through quality messaging and eye-catching graphics.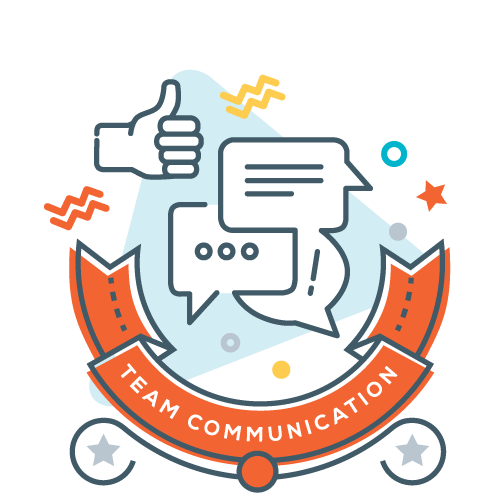 High-Level Communication
In order to be successful, our entire team needs to understand the goal. That's why our team communicates closely and regularly with one another and our clients in order to stay on track.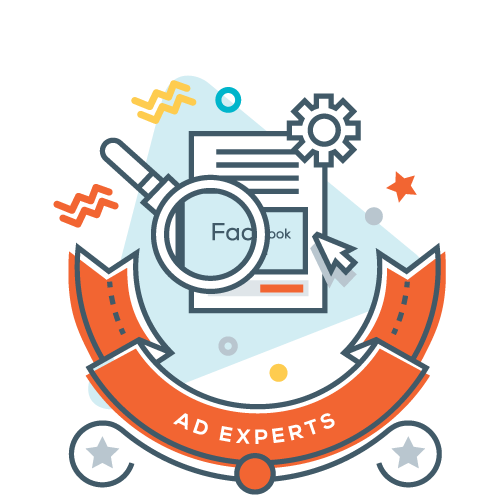 Enhanced Ad Management
A combination of AI and our ad management skills takes online advertising a step above. We know when to make changes to ads and when to stay the course.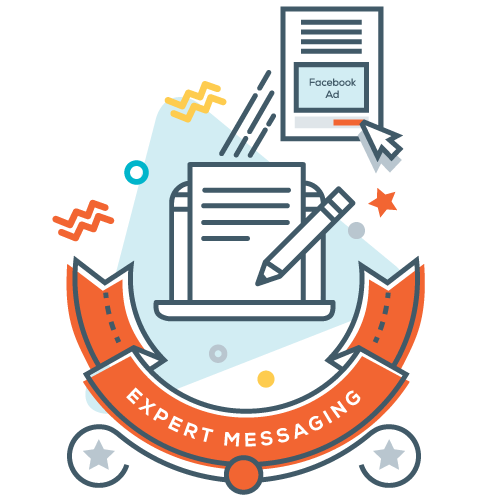 Quality Messaging
With compelling messaging that showcases your unique brand, our online advertising tactics take potential customers off the fence and into the palm of your hand. It's all about thoughtful verbal intent!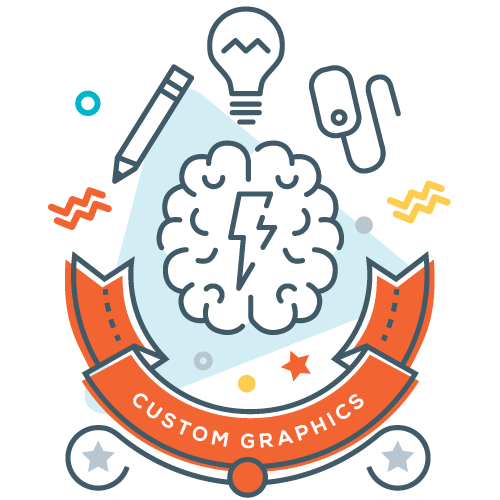 Eye-Catching Graphics
Our seasoned design staff creates a range of media that doesn't just look good—it enhances your brand to achieve a business goal. From static images to slideshows, we're here to create dynamic graphics!
Digital Strategist
Our digital strategist has over 15 years of experience in marketing. By watching the success of the accounts daily, they are able to make smart adjustments that will keep the account on budget and on target to meet your marketing goals.
Copywriter
Our copywriter will craft targeted messaging based on your advertising goals, audience, and overall brand standards–creating the right message can make all the difference when potential customers decide whether to click on your ad!
Project Manager
The project manager keeps each project running smoothly and successfully. They create a positive work environment that supports productivity and collaboration within the team and with our clients.
Graphic Designer
Our graphic designer will enhance your brand and work with strategic messaging to achieve a business goal. Content, calls to action, layouts and the user experience all work together when they create thoughtful, eye-catching designs.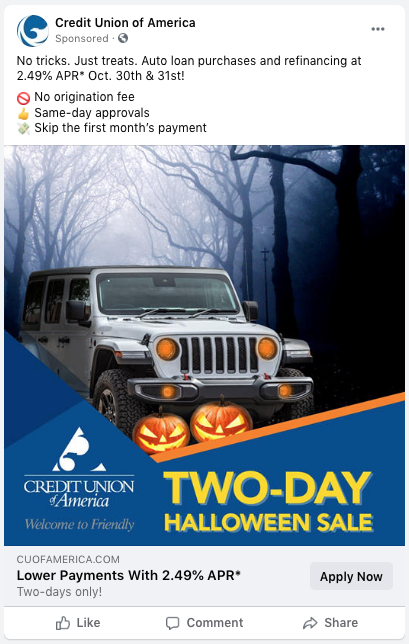 Facebook Case Study–CUA Halloween Flash Sale
$5.3 million in booked loans!
Credit Union of America decided to run an auto loan flash sale for 2 days in October. PLAY Creative assisted in promoting the sale and helped to get prospects to sign up for a reminder to apply for an auto loan when the flash sale began. Using similar tactics previously used for a Black Friday flash sale 2019, we sent current members and prospects to a landing page where they could sign up for flash sale reminder texts and email alerts.

What a Standard Ad Campaign May Look Like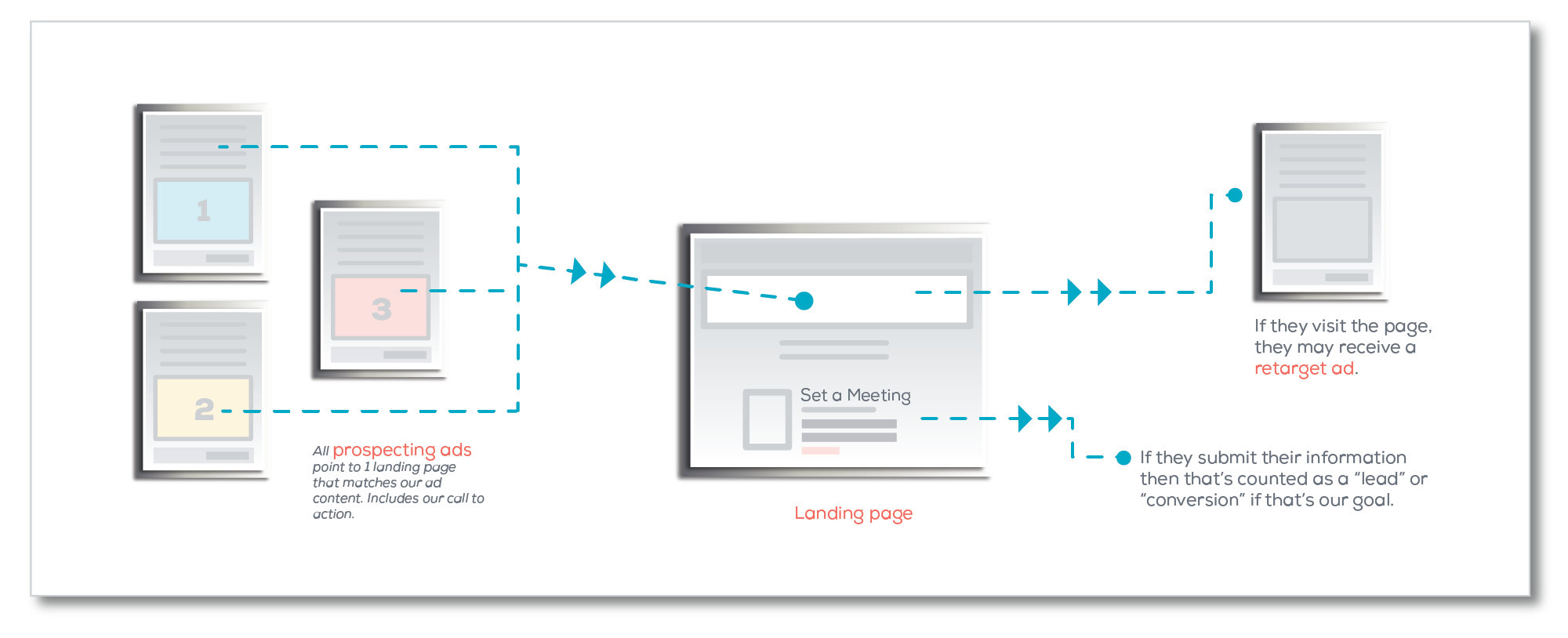 What Our Clients Are Saying! 
"I have worked with PLAY Creative for almost 3 years and they are a wonderful company to work with as they take your ideas and budgets to heart. Great at working with you with tight timelines but especially if the budget is tight they work with it and still produce fantastic results. They understand that small businesses just can't afford as much as the big dogs but never give you the impression that you are too small. Great company!"
Local Plan
$
775/
Monthly ad management fee
Suggested monthly ad spend – $608 – $999/month – Local lead gen only – one state included – No ecommerce
1 Campaign
3qty *Starter ads
Ad refreshed every 3 months
Daily ad monitoring
Advanced reporting – Emailed w/ expert notes monthly
Call and conversion tracking
Review calls monthly
*Standard set-up fee:
• 3 months – $850.00
• 6 months – $650.00
• 12 months – $450.00
Expanded Plan
$
885/
Monthly ad management fee
Suggested monthly ad spend – $1,000 – $2,000/month – National lead gen // multiple states included or ecommerce
1 Campaign
4qty *Starter ads
Ad refreshed every 2 months
Daily ad monitoring
Advanced reporting – Emailed w/ expert notes monthly
Call and conversion tracking
Review calls monthly
*Standard set-up fee:
• 3 months – $950.00
• 6 months – $750.00
• 12 months – $550.00
Custom-Quoted Plan
Monthly ad spend $2,000+
Various custom campaigns
Ad qty's to fit your needs
Ad art edits/ad refreshed as needed
Daily ad monitoring
Various ads rotated monthly as needed
Advanced reporting to fit your needs
Marketing meetings set to fit your needs
Call and conversion tracking
Review calls to fit your needs
Set-up fees custom quoted
Add-on Services
Campaign add-on – 25% discount per campaign added
Custom landing page (content/imagery/storyboard) – $850/each
Storyboard development for video (content/imagery suggestions) – $650/storyboard
*Starter Ads
For all new accounts, our team will prepare what we call "starter ads" when launching your campaign. We will create ads utilizing your existing branding elements, existing imagery, existing video, or even fully produced artwork that your graphics team has developed. As we start our monthly relationship and assist you in optimizing your online ad campaign, our team is there to provide additional content or graphic design services based on the plan you choose. Any graphics or content that are above and beyond the plan you choose will simply be billed separately. The "Local" and "Expanded" plans above reflect simple content or imagery updates with every "ad refresh" needed. Our team watches the data and refreshes your ads based on the performance. If you are seeking monthly ad rotations with new art we can handle that but it will be quoted custom per unique situation.
*Standard Setup Fees
Setup fees for Facebook vary depending on client account ownership status, our access and access to your website for installing tracking code. 
Custom Artwork Needed? No Problem!
Keep It Simple and Strategic
All brands are different. That's why the pricing above reflects only ad management. If you have a current creative team or have plenty of support imagery, video, and even content that you can supply our team, then the above plans and pricing are built for you. In the above pricing plans our team will build your ads but with supplied elements like pre-existing images, existing brand standard elements, existing video and we can even work with existing content/messaging.
Let's Get Creative!
If you're not only seeking strategy and experts managing your ads but you also want eye-catching graphics, then no problem, we have you covered. Our team can create custom graphics and content for your campaign. We can assist with the development of animated graphics, simple animated videos, carousel ads, custom static ad imagery, and slideshow ads all of which match your current brand standards. If it's custom creative that you seek, then let us know and we'll get you a custom quote for each ad needed for your campaign.
Reach Out to Us With Questions!