3 Burning Questions for a Facebook Advertising Agency

We answer 3 common questions prospective clients often ask us! 
1. Is Advertising on Facebook Worth It? 
Short answer, yes! Not only can you target specific people to reach the audiences most likely to be interested in your goods or services, but you can also customize your ads, perform A/B tests, and see TONS of reporting data (unique clicks, overall reach, and so much more). 
We've had clients who have generated  $37,816.85 in sales in just the first 90 days of working with our Facebook advertising agency. And that's just one of the many success stories that we've been a part of over the years. 
As WordStream puts it, "If you want to keep up and beat your competitors…hop on the Zuckerberg bandwagon."
2. How Much Does It Cost to Advertise on Facebook?
The price of advertising on Facebook will vary depending on the size and scope of a particular campaign and the budget set by a client. However, when we set our fees, we factor in lots of different variables, plus the fees charged by Facebook, to create a standard monthly cost.
So, let's get down to brass tax. How much money should you set aside in the budget for online Facebook marketing?  There are two plans that we usually offer to clients. We've broken them down here (the Platinum Plan includes additional testing, which helps you understand your audience more quickly,  but the Gold Plan is still great for gaining new sales and leads). Of course, we can and do customize our plans to fit the needs of each client, but here are some rough numbers to help get you started:
Note: The numbers below are examples and are subject to change.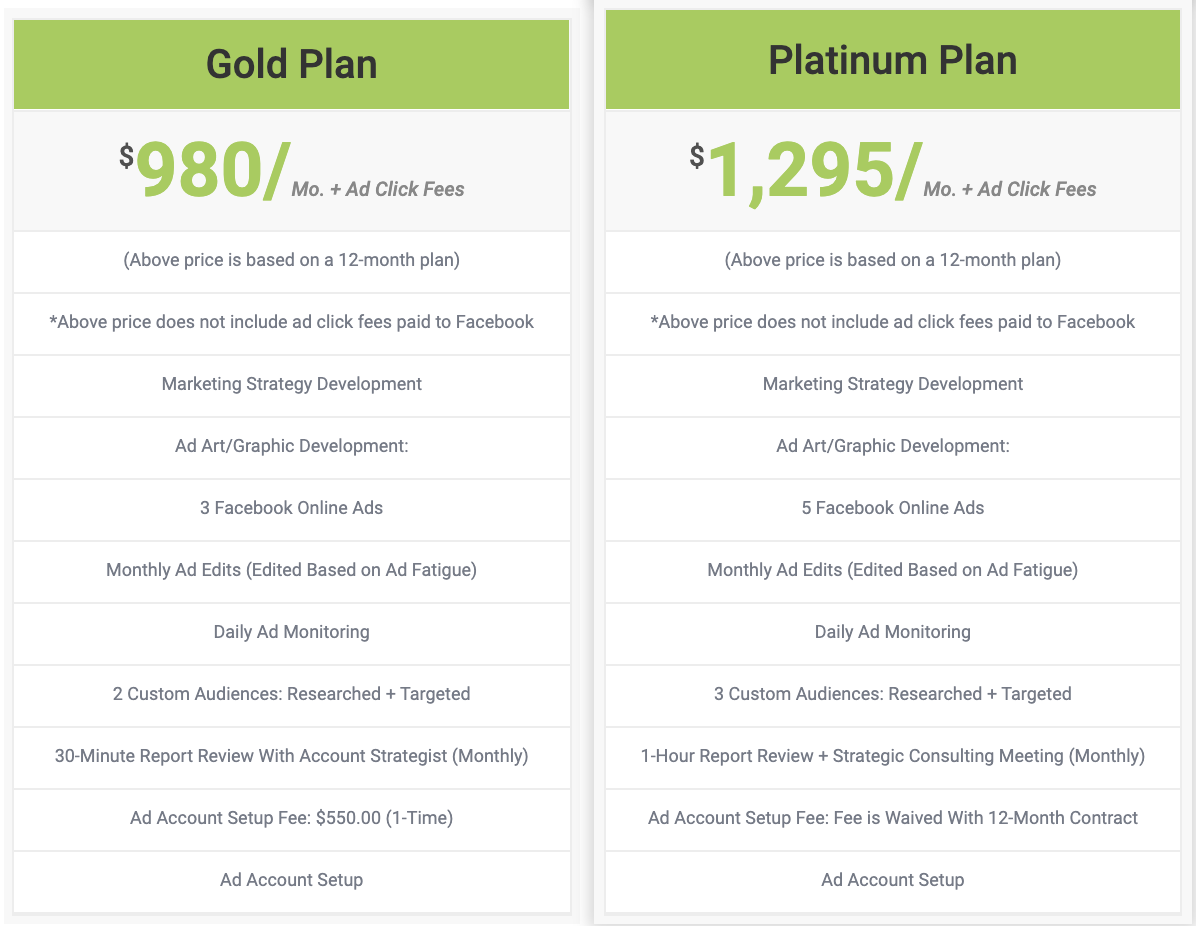 3. What's Your Strategy for Facebook Ads?
Just like the cost of advertising, our strategy varies depending on the client and is tailored to fit your business and your overall goals for marketing. For example, some goals would include increasing sales, brand awareness, and website visits/clicks. Every client is different. That's why our team of four includes a strategic marketing expert who will manage your account in a way that best suits you!
Strategy is one of the greatest benefits of hiring a marketing team. As professionals in our field, we know how to track the success of a campaign and how to pivot our approach and make any improvements to the ads.
We totally agree with Sprout Social when they write, "the value of Facebook as an advertising channel is undeniable."
Are you ready to talk strategy and reach the right audience fast? Then, reach out to us below to talk more about how our Facebook advertising agency can help you.