Facebook Ads Agency Generates Massive ROAS – Case Study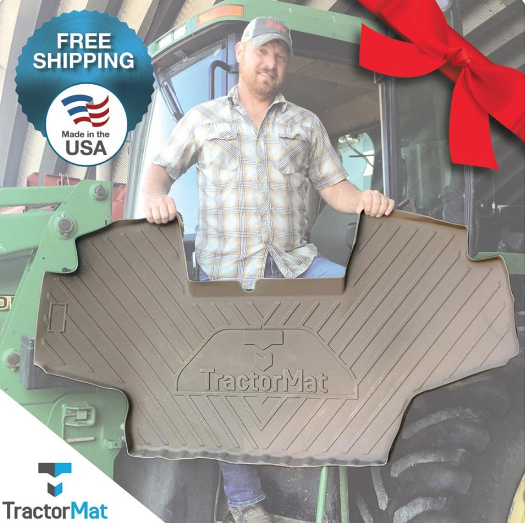 Check out how our Facebook ads agency managed a campaign for TractorMat.
Executive Summary:
When TractorMat decided to hire our Facebook ads agency, they were new to Facebook advertising and wanted to increase overall mat sales. Our agency created a campaign that focused on direct, business-to-consumer sales. Our approach was to build up and optimize ad sets through Facebook. We narrowed focus on customers first while simultaneously optimizing ads. In the first 90 days, we generated $37,816.85 in sales and only spent $3,059.57 on ads! This gave them a ROAS (Return on Ad Spend) of $34,757.28. Since their average customer spends $500 during their lifetime, this works out to be an Estimated Lifetime Value of $79,000 in just 90 days! Learn about our marketing services here. 
Facebook Ads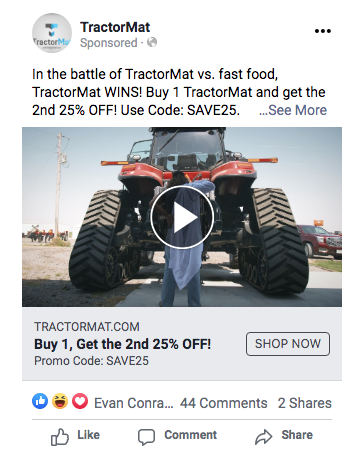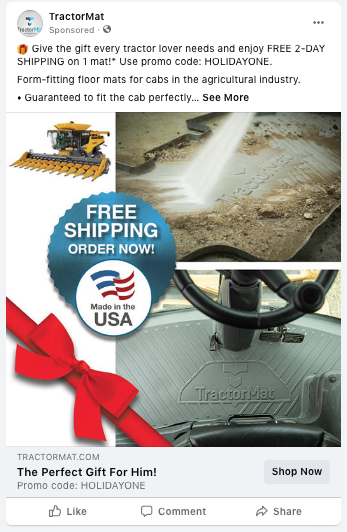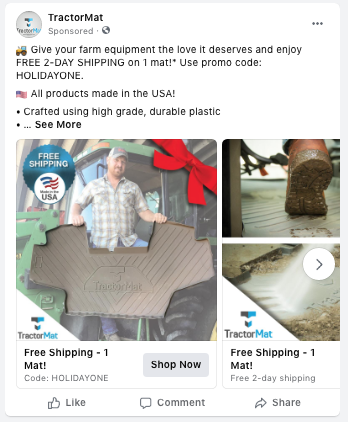 Online Marketing Goals: 
Goals

Online sales

Web traffic/awareness

$90 ("CPA" goal rate on reports)
Messaging:
Current Verbal Intent Includes:
"Protect Your Investment"
Additional Verbal Intent May Include:
"The perfect gift for tractor lovers"

"The perfect gift for him"

"Love your tractor back"
Full List of Assets Created:
Ad set 1 – Ad art:
FB ads created
2qty Video ads
1qty Static designed ad

(Before and after pics)

1qty Retarget static ad (Included in Option 2)
Results:
Sample Report View