Raised at Full Draw – Online Facebook Ads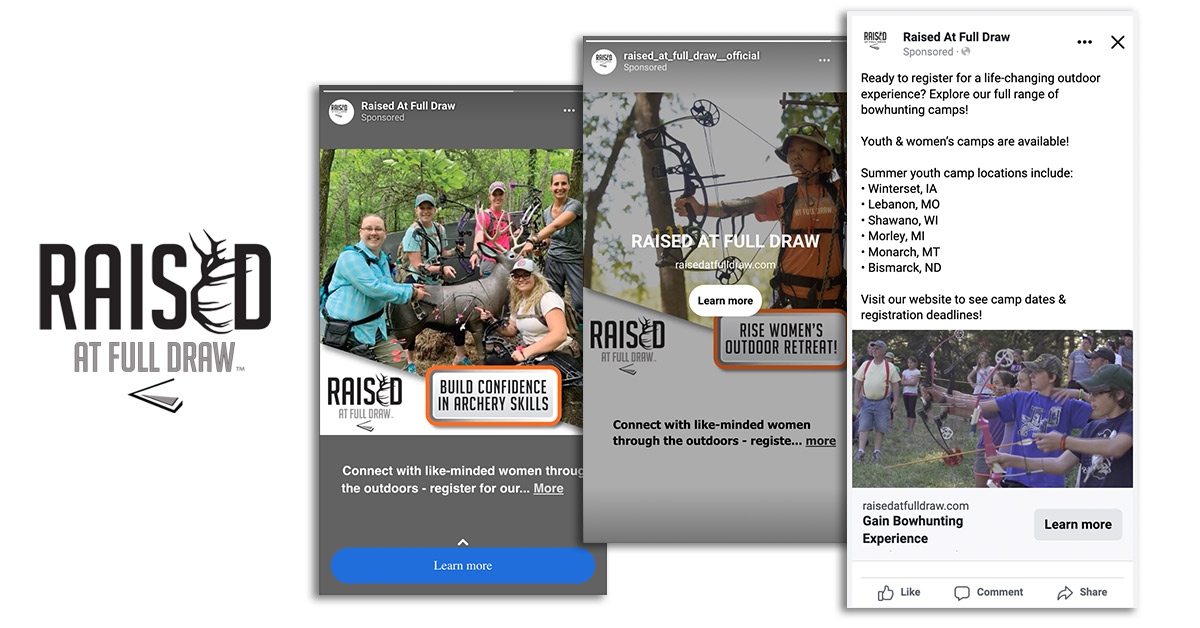 Executive Summary:
Our client, Raised at Full Draw, approached our online advertising agency about running a short 3-month campaign promoting their summer camps for kids and women. Since their camps are located in multiple states and at various times throughout the summer, we used strategic targeting methods to promote the camps to both a built-in and a cold audience. One of our client's main aims was to reach new people who were unfamiliar with the camps and all Raised at Full Draw has to offer.
Over the course of our campaign, we generated 20+ new registrations to the various camps offered, with some camps even filled to max capacity. Plus, the ads increased the number of people reached and the number of people who contacted the business with questions, meaning that not only did the ads create actual results, but they helped to boost overall brand awareness. This brand awareness is crucial for RAFD going forward and gets potential customers thinking about signing up or signing their kids up for next year's camps.
Our initial goal was to gain at least 15 new campers in order to break even, and with the 20+ new registrations mentioned above, the client's goals were met and then exceeded! 
Learn more about our Facebook & Instagram Services and read a testimonial from the client below!
Facebook Ad Placements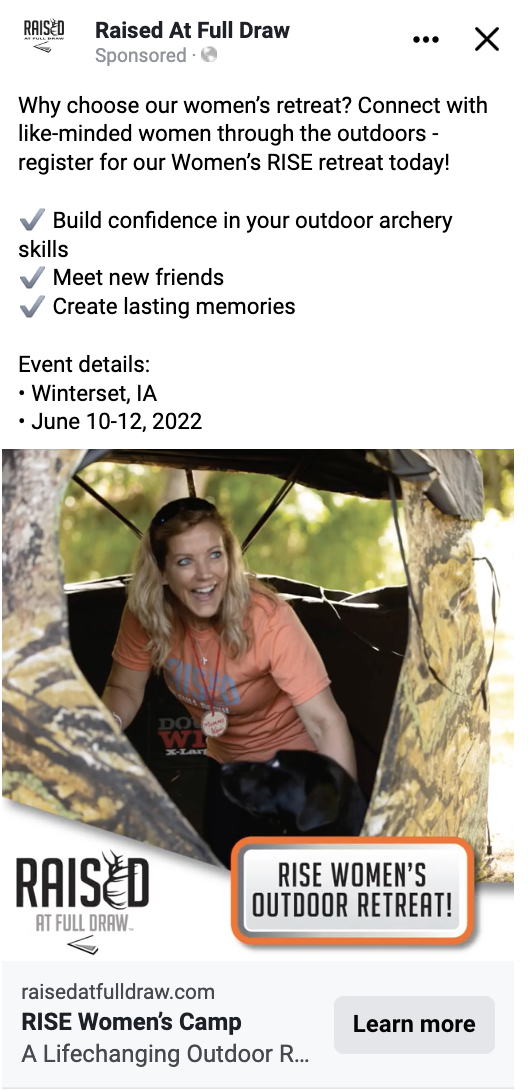 Main Targeted Locations:
Winterset, IA

Lebanon, MO
Shawano, WI
Morley, MI
Monarch, MT
Bismarck, ND
Areas of Focus/Messaging:
Meet new friends while learning a valuable skill
Register your child for our bowhunting youth camps today!
Connect with like-minded women through the outdoors
Ready to register for a life-changing outdoor experience?
Explore our full range of bowhunting camps
Gain bow hunting experience
Build confidence in archery skills
Create lasting memories in the outdoors
Kid's Camps Targeting:
John Deere

Campsite
Parks and Recreation
Outdoor Life
Recreation
Survival skills
Realtree Outdoors
Under Armour Hunt, and many more!
Women's Camp Targeting:
Harley Davidson
Empowerment
Women in the workforce
Country Woman Magazine
Hunting
Outdoor recreation, and many more!
Sample Report View