YouTube & Facebook Case Study: NCBVI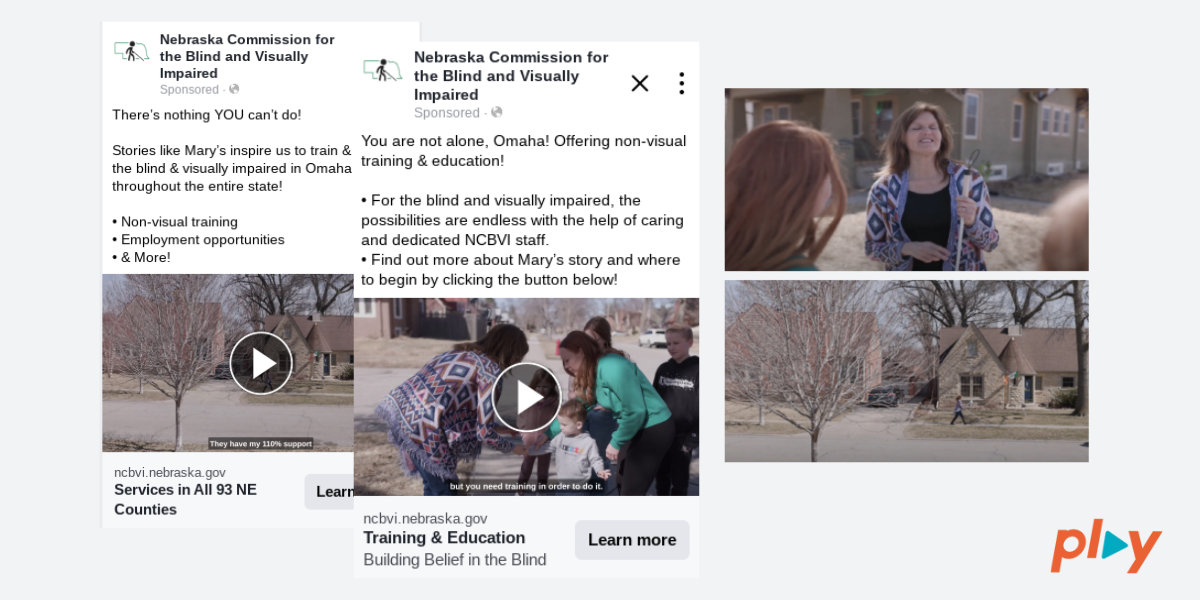 YouTube & Facebook Advertising Overview:
The Nebraska Commission for the Blind & Visually Impaired is an invaluable resource for blind individuals and those becoming blind. Our approach for their online campaigns across YouTube and Facebook was centered on telling stories. Specifically, a story that shows how empowered those blind and visually impaired individuals can be with a little training and emotional support from the Commission. By creating powerful videos like Mary's story, we were then able to implement those videos across multiple platforms, launch them using creative copy, and thus generate interest, impressions, and video views from our target audience.
Online Marketing Executive Summary:
Here at PLAY, we created a plan that used advanced marketing tactics and custom-filmed video ads on YouTube and Facebook strategically shown to the right demographic in the right locations in order to direct them to the website, where they were then encouraged to contact NCBVI for more information about how they or a family member/friend could get assistant from the Commission.
Identifying the Problem:
One of the greatest challenges of the campaign was figuring out what information might be relevant to their target audience. What words would encourage blind and visually impaired individuals to seek further training? What kind of story would inspire family members and friends to contact the Commission on someone's behalf? So we worked with NCBVI and our videographer to craft a story that would best appeal to our audience, tug at heartstrings, and offer enough background information so as to understand what the Commission can offer.
In addition, we needed to decide how best to target Nebraska residents. Since brand awareness, reach, and impressions were the primary goals for the campaigns, we decided to target the whole stay, as well as narrow the focus to include interests such as disability advocacy and assistive technology.
Outlining the YouTube Marketing Approach:
We used video to position NCBVI as thought leaders and experts in the field of visual assistance. We carefully chose shorter cuts of a longer video to make it very clear to anyone watching YouTube that there are resources available to those/or family members of those who might feel lost or unsure what to do after receiving a diagnosis. Generating hope and education through the messaging. 
Outlining the Facebook Marketing Solution: 
Another main focus of our campaigns was to create a dynamic landing page that features clickable contact information and connects the messaging found in the Facebook ads to the messaging featured on the page. In the same way, we used the videos for the YouTube campaign, we also used shortened clips from Mary's inspiring story to speak directly to our audience.
Greater Accessibility
YouTube – After the course of a few months, the YouTube campaign has generated a video view rate of over 50%, a total of over 145k views, and gained over 300 clicks. The average video view rate for TrueView in-stream ads is around 30%, so we are thrilled to hit a percentage far above that.
Facebook – Since launching the campaign, the ads have generated over 450k impressions, over 2k clicks, and over 4k video views – 100% of the video viewed.
Additionally, the video created for these campaigns was seen by a woman who was moved to advocate for herself to the Commission, thus empowering her to receive the support she needed and deserved. By partnering with NCBVI, we've found that all it takes is one story to drive great change. 
Watch the full-length version of Mary's Story