Advertising Agency: Performance Max + Discovery
Unite Private Networks :: Online Ad Campaign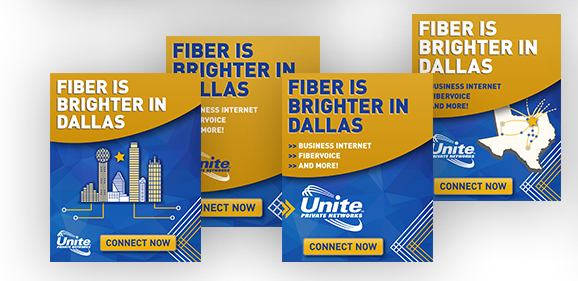 Overview

Unite Private Networks wanted a targeted Google campaign that just went after leads in the Dallas area.
Our Approach

In order to achieve UPN's goals,  we launched Google Campaigns targeting the areas of Dallas, Denton, Plano, Irving, Frisco, and Allen.

The Performance Max campaign was used to cover all platforms on Google to maximize the reach and performance while keeping it on a budget. While the Discovery Campaign was added to the strategy in order to look for new possible audiences that are most likely to convert.
We targeted 2 audiences for Performance Max and 1 audience for the Discovery Campaign using different automated ads, which are optimized by Google depending on the intent of the audience. In addition to the above, we also used creative copy and unique imagery to capture the attention of viewers. The client loves the idea of "tongue-in-cheek" marketing, so many of the headlines and themes of the ads follow that playful, lighthearted attitude. UPN knows who they are and what they do best, and we wanted to showcase that. 
Impressions and Landing Page Views
Online Performance Max + Discovery Examples