Paid Search Case Study: Unite Private Networks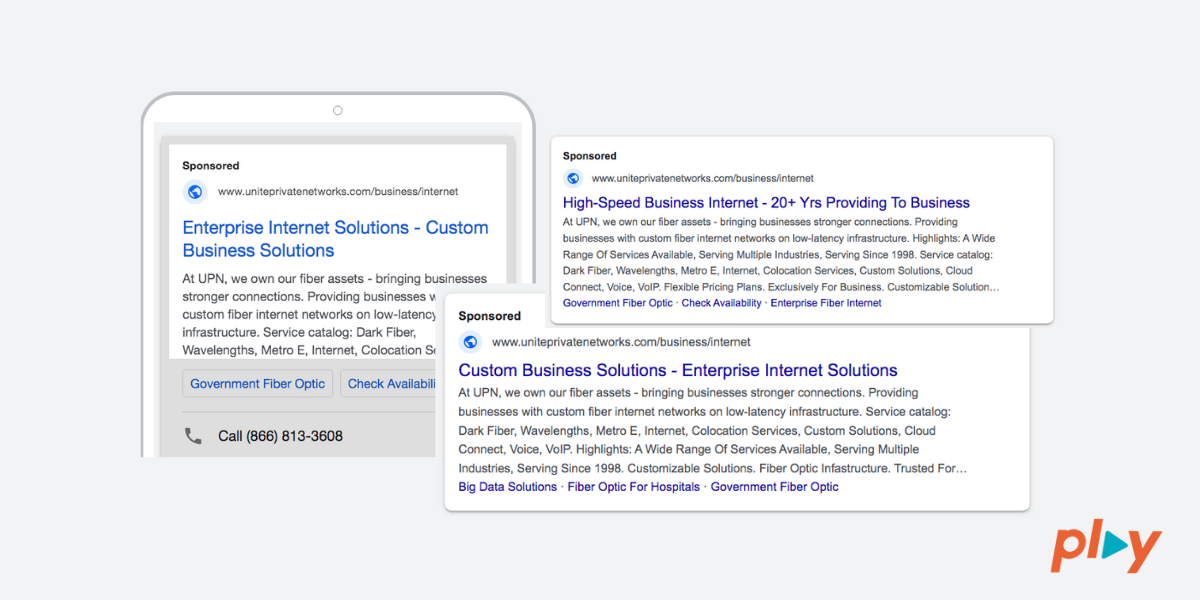 Google Paid Search Advertising Overview:
Unite Private Networks is a leading provider of private fiber to businesses across the country. When they approached us about running Google Paid Search ads, their top priorities were gaining brand awareness and conversion within their core markets. In order to do this, we created three separate campaigns on Google in order to maximize clicks and form submissions.
Online Marketing Executive Summary:
Here at PLAY, we created a marketing plan that fit both the client's needs and budgets, then gradually added ads and money to each campaign as the strategy gained traction. In addition, we researched targeted keywords that focused on UPN's priorities. Words like internet, business fiber, and other service-centric keywords that would best speak to who their target customer is — industries, such as healthcare and schools, in need of communication infrastructure.
Identifying the Problem:
Because this campaign focused on UPN's core markets, we wanted to be sure and further tailor the keywords and messaging to those markets. In short, speaking to a variety of states and people with different job titles within those locations. By watching the ads on a daily, weekly, and monthly basis, we were able to further edit the campaigns so that the budget was being properly distributed to those we believed were most likely to convert.
The Results Speak Volumes
Wrapping Up
Our goal of gaining conversions was more than met by the above results and provided our client with form submissions, phone calls, and other conversions that they were after.
Given the fact that the average conversion rate across all industries on Paid Search currently sits around 4.2%, we are thrilled with how our ads outperformed this number. Best of all, our client, Unite Private Networks, has been so happy with the results that our working relationship has grown beyond this campaign and into brand-new strategies across different platforms!