Facebook & Instagram E-Commerce Case Study: Masport Pumps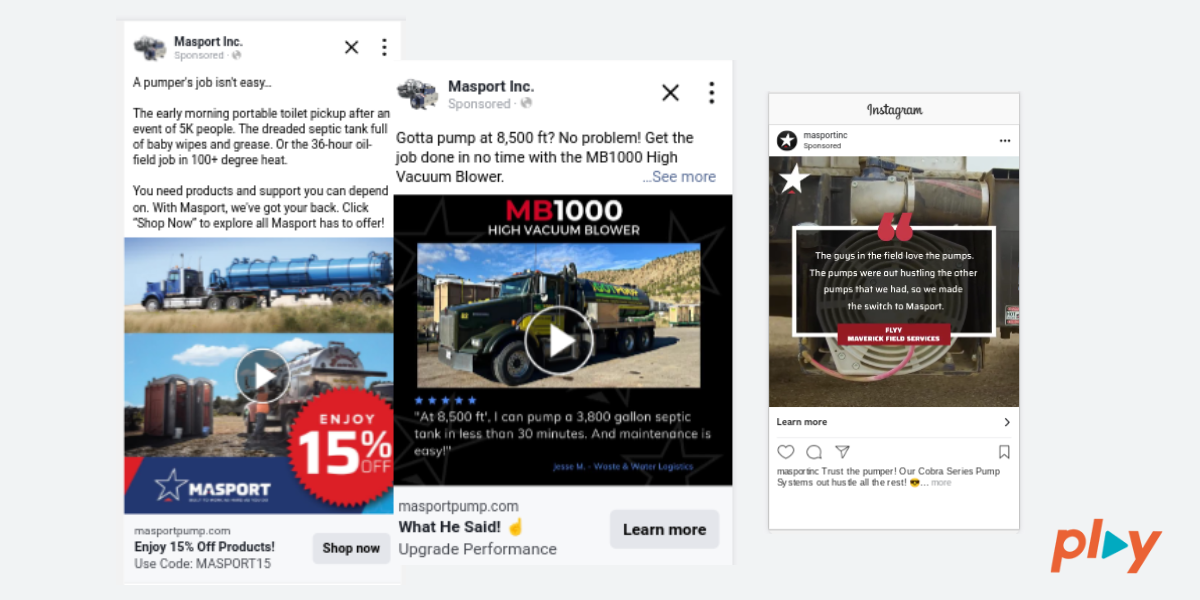 Meta Advertising Overview:
Masport Vacuum Pump Systems is the #1 choice for pumpers worldwide. They provide a wide variety of pumper truck products that are designed to work as hard as the pumpers themselves. Masport approached PLAY Creative about creating a series of campaigns to promote the launch of several of their products. From there, we've grown their Facebook and Instagram campaigns to include a campaign that advertises their entire online store, thus focusing in on gaining sales.
Online Marketing Executive Summary:
By collaborating closely with Masport, we created a series of ads that highlight the key characteristics of the products being promoted and appeal to the target audience – pumper truck owners looking for greater education and the highest quality products on the market. We used dynamic headlines, both static images, and videos, and watched the ads closely in order to capitalize on what was working.
Beyond gaining branding awareness in states that were not as familiar with their brand, the focus of the ads was to promote new products, gain new clients, and elevate sales across their online store. How we structured the ad sets and messaging revolved greatly around testing the states and watching different states to see which ones seemed most interested.
Since launching our campaigns for Masport, we have continuously hit higher conversions and greater conversion values each month. 
The Results Speak Volumes
$520k+
Purchase Conversion Value
Wrapping Up
Our goal of gaining conversions was more than met by the above results and provided our client with increased purchases, contact us inquiries, and inquiries about new product launches. Based on the overall cost of the campaigns, we are thrilled with the number of purchases and the amount of traction the client has gained through the ads and our ongoing working relationship.