Facebook Ads Case Study: 
Certified Piedmontese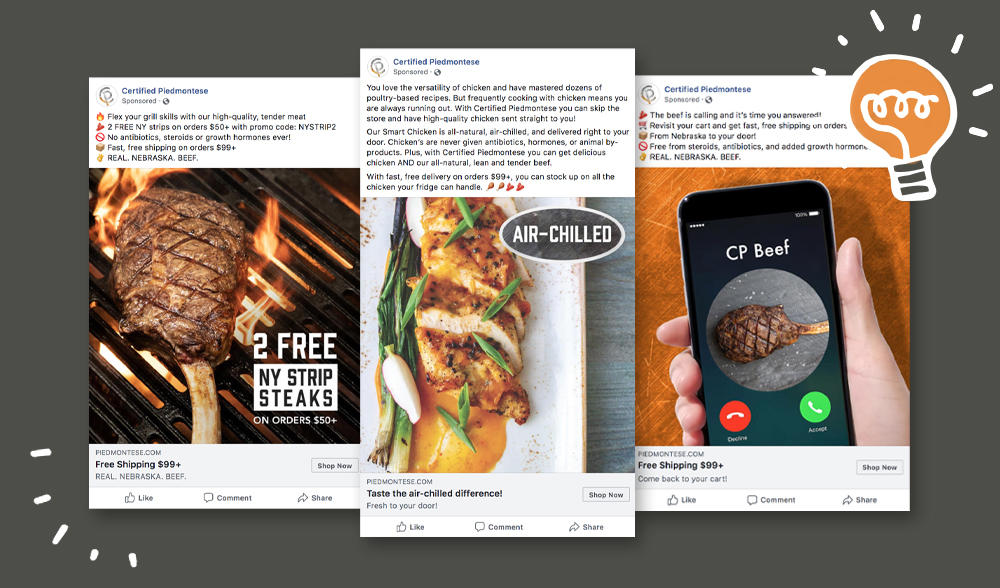 Facebook Advertising Overview:
 Certified Piedmontese wanted to expand their reach on the East Coast of the USA, and grow brand awareness in the restaurant industry.
We created a strategy that focused on marketing to consumers who work in the restaurant industry and live on the East Coast and built retarget ads to convert warm leads into sales. We also tested a variety of audiences to find other consumer markets that would be likely to purchase from Certified Piedmontese. 
In the 30 days between 04/01/20-04/30/20 alone, we generated 497 sales at an average cost per acquisition of $7.36 and an average value per sale of $200. This resulted in a return on ad spend of nearly $96,000 for the month of April and an annual increase in projected revenue of $497,000.
Online Marketing Executive Summary:
To generate new revenue for Certified Piedmontese, we decided to focus on advertising on Facebook and Instagram. Each campaign or "theme" would feature one Facebook ad and one Instagram ad. These themes were carefully crafted in order to reflect promotions, deals, and national holidays.
Identifying the Problem:
Certified Piedmontese needed a new campaign in order to increase B2C online sales, increase website traffic, and create B2B brand awareness. The focus of this campaign would fall to states in the Northeast and East Coast regions.
One of the main challenges of this campaign was figuring out how to solve the above problems while pinpointing target audiences that were large enough to deliver the ads effectively. Once that problem was solved, we would then have to craft copy and create imagery that would speak to the specific audiences. 
How we moved forward with additional ads would depend on the identification of top-performing ads in each one of the audience sets mentioned.
Outlining the Marketing Approach:
Since one of the main focuses of the campaign would be to generate sales, we decided to promote monthly sales and specials given by Certified Piedmontese. Our call to action for a vast majority of the ads would encourage customers to "shop now." 
We also used playful, fun language that enticed customers to click or revisit their cart. Instagram ads would feature hashtags to further solidify the ideas addressed in the ad copy. In addition, we decided to use a mix of imagery, video, as well as short-form vs. long-form copy. 
After the ads were mocked up and created, we tracked their success rate and created new promotions based on those successes.
Finding a Solution:
We used Facebook and Instagram ads to promote the Certified Piedmontese website and generate awareness for promotions and specials offered month to month. Our retargets focused on customers who added to the cart but never purchased.
By rotating ads monthly and creating new ads based on creative themes, we helped to avoid ad fatigue and continued to gain interest for different promotions and the various products offered on the CP website.  
Results from the campaign included:
So far, the campaign has an average cost per click of $0.60, 497 sales, and, on top-performing ads, saw a click-through rate of 7.7%. That's a 5% increase on the industry average click-through rate of 2.43%. 
Digital Ads created and currently running 
Facebook Ads

Instagram Ads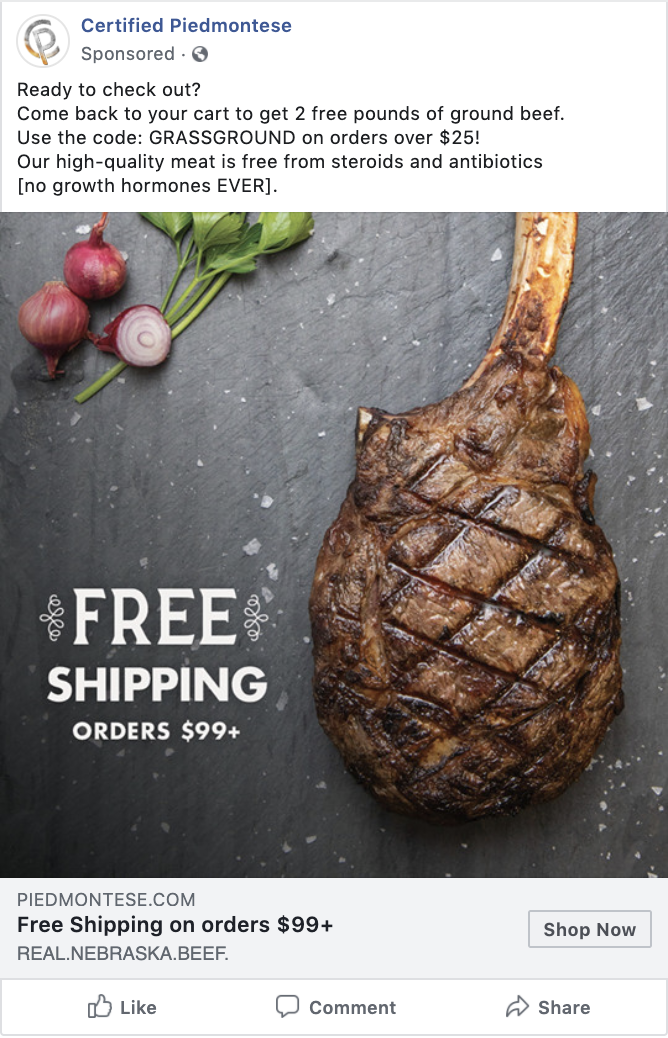 Continuing The Marketing Strategy:
We will continue this campaign month to month, changing themes and promotions on a regular basis. By creating twelve ads per month, we hope to see even higher increases in clicks, impressions, and conversions.