Facebook Ads Case Study: Primary Care Partners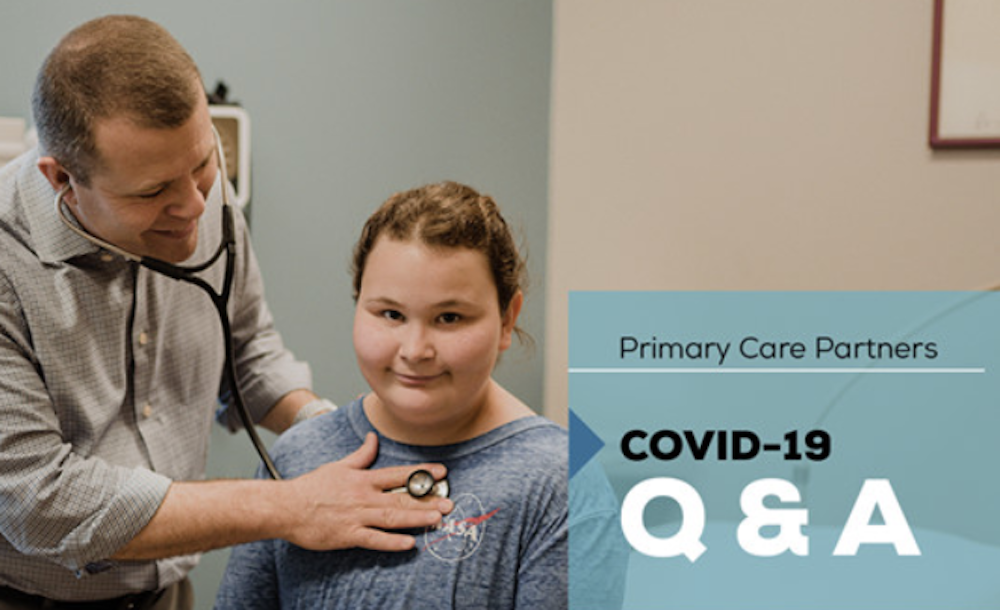 Facebook Advertising Overview:
In light of current events, Primary Care  Partners wanted to create local brand awareness, increase social media engagement, and ramp up website traffic. They wanted to signal that their team is here and ready to help the community through this difficult, rapidly changing time. 
So far, our Facebook ads have created over 12,000 impressions, produced approximately 360 phone calls, and  8,002 ad clicks. A great success for the first 30 days of the campaign.
Online Marketing Executive Summary:
Here at PLAY, we created a plan that used advanced marketing tactics, and custom-designed Facebook ads strategically shown to the right demographic, in order to direct them to the website where they were then encouraged to contact the doctors' office for an appointment. 
The client wanted our Facebook advertising campaign to hit upon three subjects:
That  Primary Care Partners is open for business, but would not be accommodating any walk-ins at present.

 Primary Care Partners is utilizing telehealth technology to care for new and existing patients.

 Primary Care Partners is currently accepting new patients.
Identifying the Problem:
One of the greatest challenges of the campaign was figuring out how to speak to patients who were concerned about their health and the well-being of their loved ones. We decided to take cues from the physicians working at Primary Care Partners, in order to speak to the target audience and make them feel comfortable and cared for. While also making sure the general public knew the doctors' office was prepared to take on new patients and could serve them in various ways, including telehealth technology. (This led to approximately 360 phone calls from our Facebook ads in just under 30 days).
In addition, we needed to decide how best to target all Lincoln, NE residents over the age of 25. Since awareness was the primary goal to start, we recommended casting a wide net over Lincoln, and then analyzing the demographic data as the campaign evolved.
Outlining the Marketing Approach:
We used existing video to position Primary Care Partners as thought leaders and experts in the field of medical health. We carefully chose a still frame image of the video to make it very clear to anyone scrolling on their social media page that these are trusted doctors giving their thoughts, tips, and/or procedures for navigating family health during this time. 
The first video discussed telehealth options. We then guided people to a blog article that talked about telehealth and how it's used which included a call to action for new patients to call and set up an appointment. 
While the video was running we produced 2 additional ads. One was a general "we're still open" ad, and the other was an "Ask a Doctor Q&A" ad.
Finding a Solution:
Our strategy to find a solution to Primary Care Partners problem consisted of the following phases: 
Phase 1: Telehealth Video Ad 

The main goal of this ad would be to increase brand awareness and website traffic. We decided to run a video on Facebook with supporting copy. We showed that Primary Care Partners is reliable, prepared, and offers a variety of health care options (like telehealth). We made the landing page for the ad the Telehealth Blog Article on the PCP site. 
Phase 2: Static Image Ad
The main goal of this ad would be to increase brand awareness and website traffic. We developed a Facebook ad that reminded people in the surrounding area that Primary Care Partners was "still open" and "here for your health." From there, potential and current patients would be able to learn more about what Primary Care Partners does and who they are.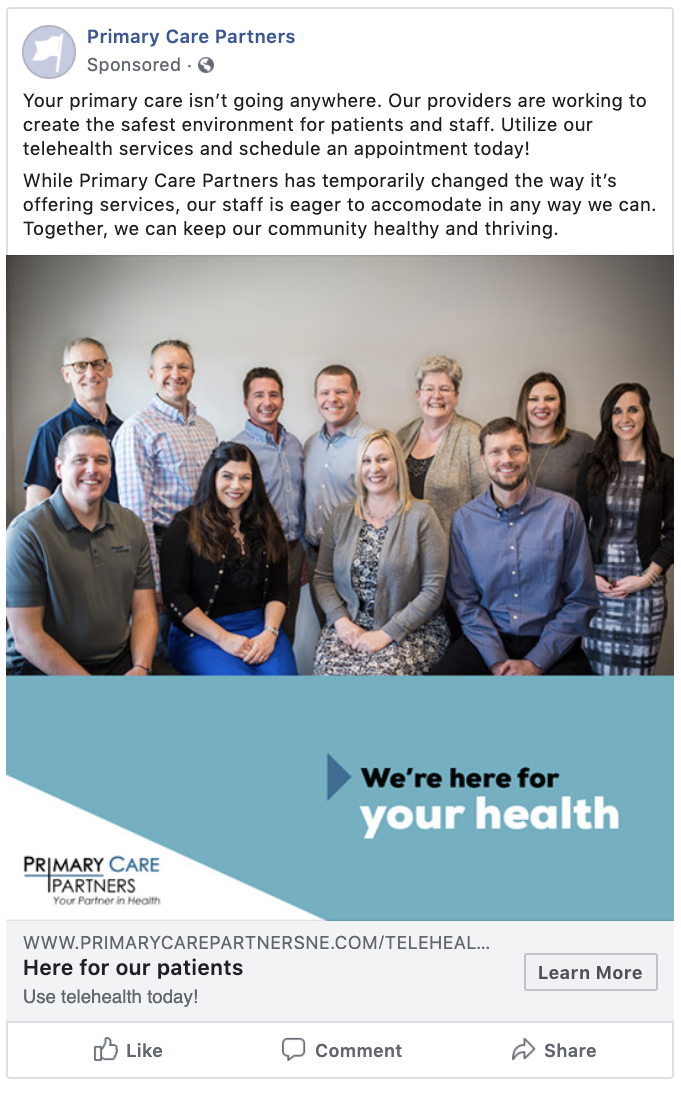 Continuing the Marketing Strategy:
With over 5,000 page views and 8,000 clicks, the campaign has already increased awareness for Primary Care Partners. Are ongoing partnerships with PCP will help drive traffic even more. As times change, so will marketing strategies and advertising campaigns.