Facebook Ad Campaign – ABC Seamless of Nebraska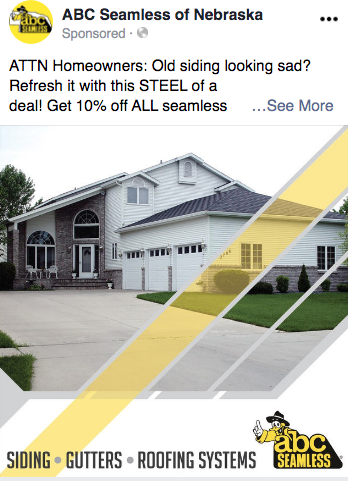 Executive Summary:
ABC Seamless of Nebraska wanted to build on its online advertising and pull in more leads per month. Their goal was to build their lead list to fuel more meetings for their sales staff. For the campaign, we focused mainly on these core all steel products: Seamless gutters, roofing systems, siding,  replacement windows, sunrooms, and patio projects.
We used "10% off all steel products" as a hook in order to draw in potential customers. Here are a few sales that came as a direct result of the Facebook ads:
A job of 6 roofs for $123,000.00 and another job totaling $63,000!
Plus, in just 3 months, the ads generated 59.53K in impressions, 327 clicks, and 6 total conversions! Those numbers are fantastic considering the major decisions made when renovating a home.
Learn more about our Facebook services and read a testimonial from the client below!
"I've loved working with the team at PlayCreative. They're incredibly responsive, helpful, and organized, and they've taken the time to get to know our business and our customer base. Because of this, we've seen great results from our Facebook ads campaign, which has broadened our overall reach and brought in some big sales. Can't argue with that! Highly recommend!"
Facebook Ads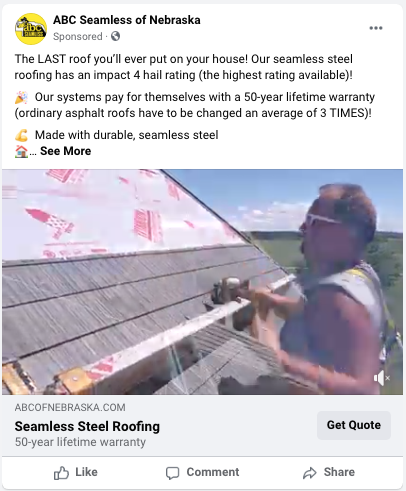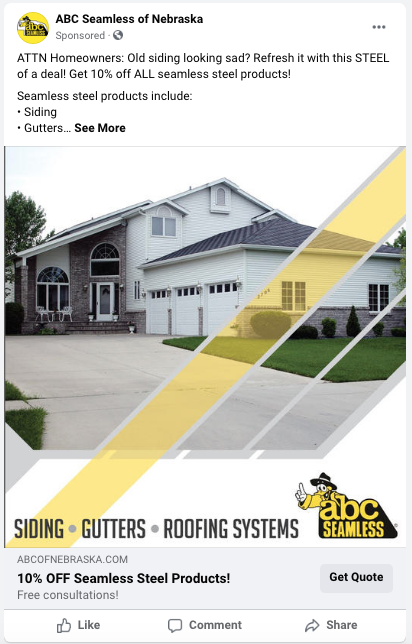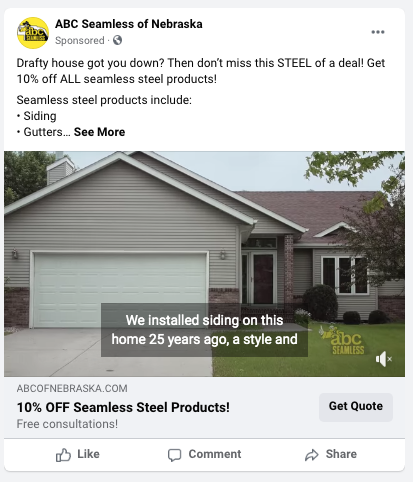 Messaging:
Combat cold weather with siding that's a STEEL!
Enjoy 10% off ALL seamless steel products!
Lifetime value – superior quality and durability
Enhance your home's value and appearance
Free consultations!
Financing available
ABC Seamless is your ONE SOURCE for home improvements!
Facebook Marketing:
2qty ads – Content and imagery (video + static images)
A/B Testing of initial ad set (since these are two separate offers, this was a  long-term A/B test of 2-6 months)
Monthly art changes based on ad performance – 1 main message focus
Sample Report View