Credit Union of America – Halloween Flash Sale Campaign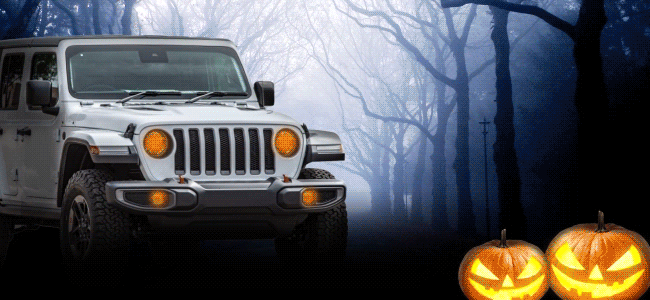 Plan Overview:
Credit Union of America decided to run an auto loan flash sale for 2 days in October. PLAY Creative assisted in promoting the sale and helped to get prospects to sign up for a reminder to apply for an auto loan when the flash sale began. Using similar tactics previously used for a Black Friday flash sale 2019, we sent current members and prospects to a landing page where they could sign up for flash sale reminder texts and email alerts. 
Prior to the sale, we lead Facebook ads to a "reminder sign-up" landing page and, during the days of the sale, lead additional ads directly to the application. 
Executive Summary:
The main object of this campaign was to gain new auto loans from a 2-day flash sale. The Halloween themed promotion ran October 12th-29th (reminder sign-up portion) and October 30th-31st (days of sale portion). Overall goals consisted of gathering emails and then converting as many members and nonmembers as possible. The service focus included direct loans, indirect loans, and refinanced loans from existing members. 
Facebook Ad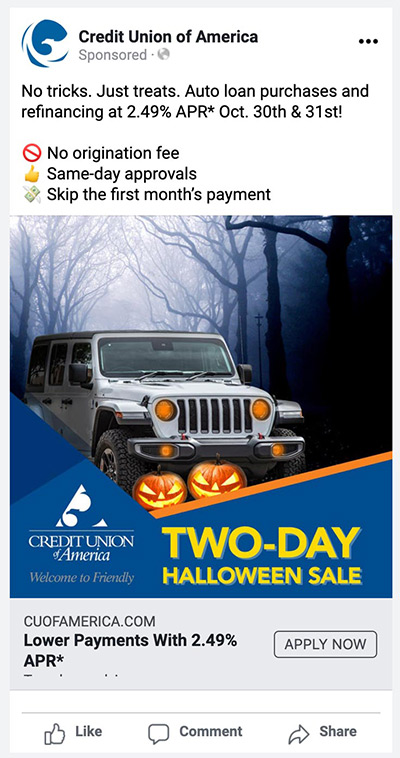 Messaging:
Two days only

No tricks. Just treats. 

Refinance your auto loan at 2.49%!

No origination fee

Skip this month's payment

Same day approvals

Offer good for applications received Oct 30th – 31st
Email Marketing:
3 email templates were created in total
Email 1

An email template was designed for non-members who signed up for a reminder to be received on October 30th when the sale began

Email 2 & 3

Two email templates were created for members, one gave them the opportunity to sign-up for text alerts when the sale begins and one was sent on the day the sale began
Full List of Assets Created:
Facebook ads

3qty Facebook ads + Retarget ads

Lobby/in-branch

Electronic outdoor billboard

Access point online

Online banking (Banner/Card/IS)

Facebook cover

External email footer

Horizontal electronic posters

Members

All audiences

Newspaper

Product one-sheet
Email – Day of the Sale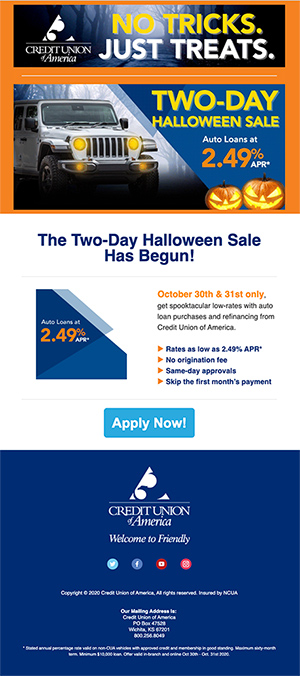 Electronic Billboard

Results:
Flash sale sign-ups: 89 (89 people gave us their email to notify them of the sale)
Cost per sign-up = $11.71 (Supercheap/lead)
227 Loans Closed
202 Direct Loans / 25 Indirect Loans
64% of those loans were new loans
$5.3 million in booked loans
Cross-sell links clicked:

Completed HELOC App: 1
Completed Motorcycle App: 1
Completed Visa Signature App: 4
Completed Balance Transfer App: 8
We are thrilled with the results of the flash sale and continue to work with Credit Union of America in order to assist in the growth of their business. Read our blog to learn more about flash sales and reach out to us below to see the full version of our sample report!
Sample Report View