Selling Layers of Security with Layers of Paper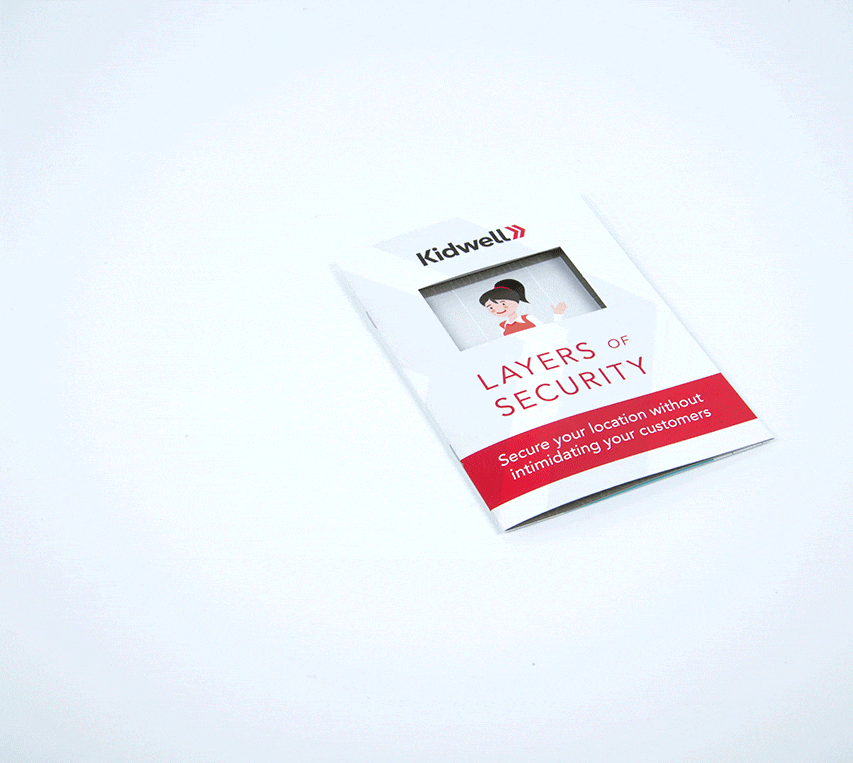 The Kidwell team sought a printed piece to help market bank security systems that combat the increase in robberies at financial institutions in recent years.
Kidwell's goal was to sell remote access security systems to financial institutions. However, they had to overcome the notion that these heightened security measures would compromise a bank's customer-friendly atmosphere.
Basically, they feared that customers needing to be "buzzed in" or slide their bank card just to get into the lobby would be intimidating and deter visitors. The print piece we created would precede their sales calls to warm branch directors to the thought of a remote access security system. The challenge for the PLAY team became not just advertising a product, but doing so in a way that would help Kidwell's sales team pitch a security system to their clients and ease their fear of creating an intimidating atmosphere in their bank or credit union branch.
Since this type of sale was relatively uncharted territory for the Kidwell team, we needed to create effective sales pieces with very little direction. This project truly started from scratch, even from a strategy standpoint. It was a unique challenge, but we were lucky to have the Kidwell team give us creative freedom from the start.
After researching this particular type of security system, we crafted messaging that positioned the product as a solution instead of a necessary evil.
Since we had a lot of important information to convey through content, we opted for a flipbook with die-cut windows to increase the curiosity factor and encourage Kidwell's clients to really engage with the piece.
The creative and production process included:
• Research and strategy development
• Content brainstorm and development
• Client approval on content/strategy
• Concept refinement and design
• Mockup brainstorming and building
• Final approval
• Final production
Let's grow your business together!
[/fusion_text] [/fusion_builder_column][/fusion_builder_row][/fusion_builder_container]