How Invested Should Your Brand Be in Social Media?
It's hard to believe it has only been about a decade since the onset of social media turned the world of marketing on its head. In the late aughts, only a handful of marketing firms were on the cutting edge of social media marketing. Fast forward to now and you'll find that social media marketing has already become just another staple in advertising.
Even still, many brands struggle to see the value in social media marketing. For many businesses, it's a big, scary, unfamiliar beast that can be hard to understand if you weren't born into it like younger generations.
Making matters worse is the misconception that leveraging social media for marketing and brand awareness requires an all-encompassing, zillion-dollar strategy.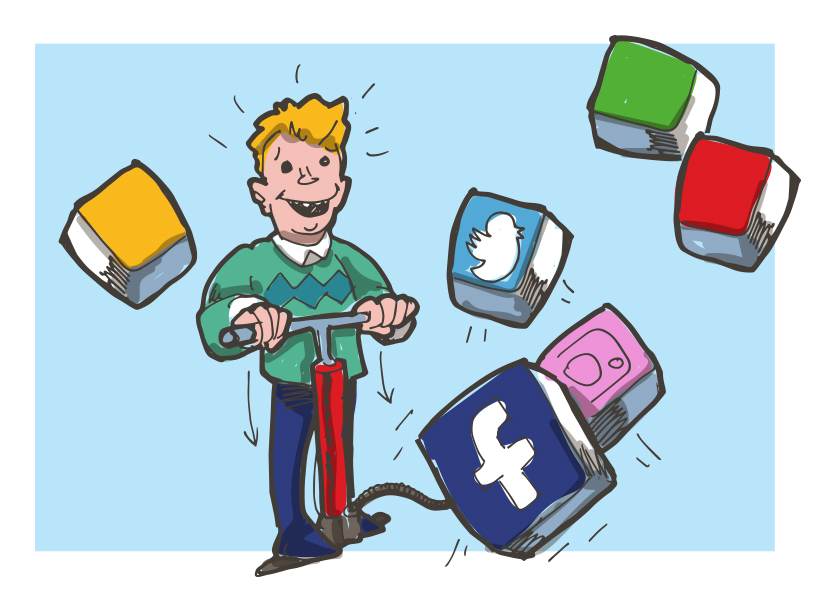 Scaling Social
The great part of social media for brands is how much flexibility it provides in terms of the resources you can put in. The truth is, many brands—small businesses especially—can find success with a minimal social media strategy that's executed properly. The barriers to entry for successful social media marketing are quite low.
But there is a baseline for a brand's commitment level to social media if they're going to see positive results from it. That commitment equates to whatever resources are needed to establish consistency.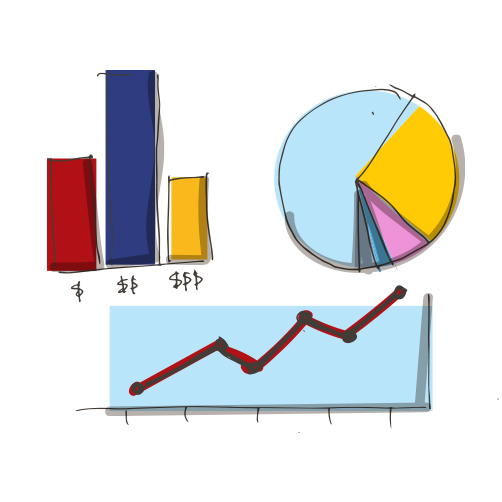 Why? Social media provides a direct pipeline to an audience, but that pipeline is crowded. Like any other marketing, it must have unified messaging and aesthetics that people can easily recognize and latch onto.
Luckily, establishing consistency in social media marketing isn't always difficult or expensive. Depending on how intricate your goals are with social media marketing, a posting schedule is the first and biggest step toward achieving that consistency. A little bit of planning goes a very long way when scheduling social media posts as it allows you to plan a significant amount of content weeks or even months in advance.
With a big chunk of content scheduled out, we have greater capacity to be agile in creating more timely content on a week-by-week or day-by-day basis. In fact, this is the same planning and management system we use for own social media posting. Take a look on our Instagram, Twitter and Facebook pages.
Once you've established a branded voice and visual feel on social media, you can start leveraging the medium to grow brand awareness and promote products and services.
How Invested Should You Be?
Just because social media is "free" doesn't mean it has to be utilized at the scale of brands like Coca Cola and Adidas. Like everything else in advertising, your marketing should be where your audience lives. Spend a day paying close attention to the ads you get on social media and you'll notice the majority are consumer product-based offers with general brand awareness ads peppered in here and there.
Companies that offer services—especially the more utilitarian services—are better off using social media marketing for brand awareness and promoting special offers rather than their core service(s).
Local mail services provider Midwest Connect is a great example of a service-based company using an entry-level social media campaign to scale their brand awareness. They realized the importance of having a social presence but weren't ready for an all-out social media marketing blitz. And that's OK. As a service-based company with a more "utilitarian" set of core services, Midwest Connect probably doesn't stand to gain a lot of the kind of sales that social media marketing typically works for.
Go Where They Live. Speak The Language. Give 'Em What They Want.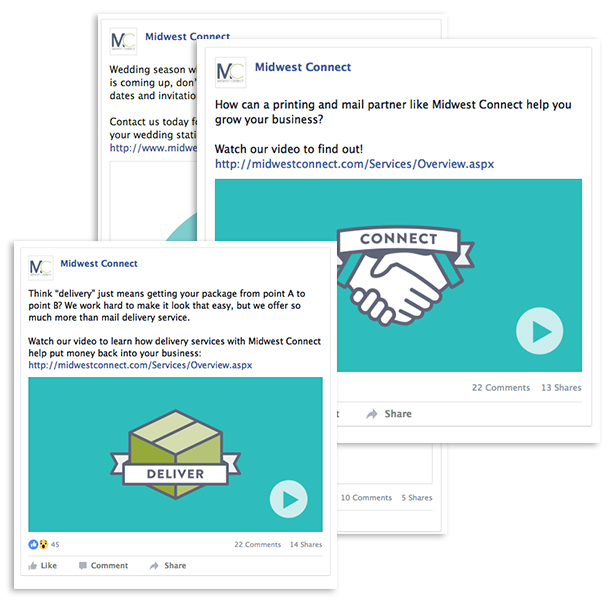 When developing a social media strategy, your first step should be finding out everything you can about your audience, and then finding out the times when they're engaged on social media. You'll also want refine your brand's voice so the company can engage with people whenever you have the opportunity.
For Midwest Connect, we also supplemented their social media schedule with posts for important dates within the industry to help them be part of the conversation more frequently. Taking some time to plan posts around these important dates is one of the easiest ways to inject a brand into the conversation on social media with posts that are interesting, engaging and compelling.
As with any good social media strategy, we wanted to provide more ways for Midwest Connect to be part of the conversation on a consistent basis. In the social media world, that happens through relevant, valuable content that customers want to engage with. After some research and brainstorming, we created a bank of content for posts that encourage that engagement from their target audience.
When developing your strategy, just remember not to fall into the trap of thinking that every post needs to gain a sale or see a hard ROI. With social media, being part of the conversation is arguably more important than the actual advertising!
Social Never Sleeps
A social media campaign can only be automated so much before its starts to feel robotic and inauthentic. A social media brand is a living, breathing creature that needs to adapt at a fast pace to thrive, so any good social strategy needs built-in capacity for changes.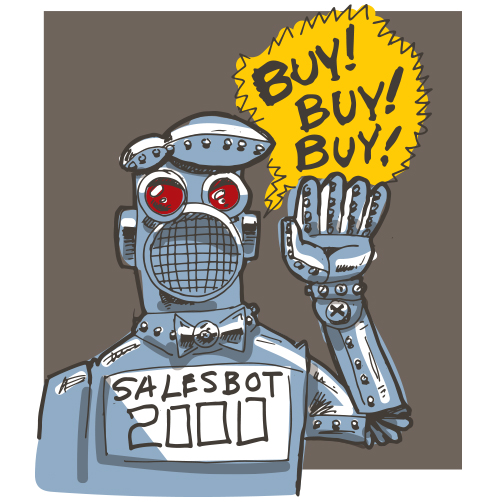 When we build social campaigns here at PLAY, we have levels of adaptation we can build into them. Round-the-clock management of a social brand can get pricey for smaller businesses, so we also offer daily, weekly, monthly and/or quarterly check-ins for the status of a social brand. These check-ins give us the capacity to make any strategic changes to a campaign based on its performance, which we track closely.
More so than traditional marketing campaign, social media campaigns have to be able to pivot quickly if they're going to be successful.
Making Dollars and Sense of It
Determining how much to invest into your social media marketing can be tricky, especially considering how quickly different platforms change. The dirty little secret that the marketing sages won't tell you is how much brands can accomplish internally with social media—if and only if they have a team member who can uphold brand consistency and devote enough time to it.
Teams that are smaller or don't have a dedicated social media maven on staff are best suited working with a team of marketing pros (like PLAY Creative!) to develop a social strategy to guide them as they handle things in-house. Aligning with a firm like PLAY also makes campaign creation easier, faster and more effective when you need a big marketing push or a long-term strategy.
Finally, the teams that don't have the people, time, resources or social media know-how can still get a huge bang for their buck in the social media game by aligning with a firm. Here at PLAY, we can even develop full-scale social media packages that walk you through social brand strategy and voice development, posting guidelines and schedules, content creation and results tracking. In other words, we do all the work for you at this level.
If your business is ready to harness your brand's untapped power in social media, we'd love to guide you on which level of commitment fits best.