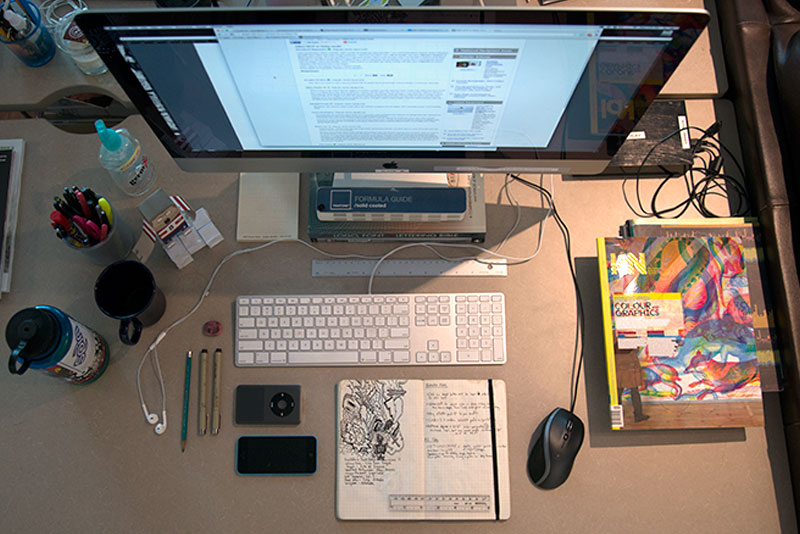 Q: What would you say… you do here?
As a designer here, I make all kinds of cool things. I have my hands on projects from start to finish. In early brainstorming sessions, I work with the team to develop a creative strategy – then it's on to one of my favorite parts of the process, making die lines. Once rough ideas are ironed out I go into production where I actually get to design, illustrate, and create a variety of different projects.
Q: What do you do in your spare time?
When I'm not pushing pixels or doodling in my sketchbook, I can usually be found doing one of the following: playing ultimate frisbee, long boarding down the few hills there are in Lincoln NE, binge watching things on Netflix, or playing guitar. I also really enjoy going to shows, watching soccer, and collecting vinyl.
Q: Where do you like to gain your industry knowledge?
I frequent a number of different design websites/blogs like ffffound, designspiration, and dribbble. I also participate in the ancient practice of buying magazines, like IdN or vna, to get my fix.
Q: Favorite part about working at PLAY?
I think my favorite part about working at PLAY is being able to be more hands on with projects. Actually getting out paper to fold and cut up into creative die lines and mock-ups is a nice break from staring at a screen all day.
Q: What's your guilty pleasure?
Guy Fieri fan fiction.
Fun Fact:
I've played guitar for about a decade now and have been in a few bands. We were very very much small-time, but the positive experiences of being in a collaborative environment, like a band, definitely helped form my career direction in wanting to be creative everyday for a living.